The Limited Edition Elizabeth April Channeled Bracelets are here! These beautiful bracelets were created to help you expand and shift to your highest vibration. This project was in the works for OVER A YEAR! We wanted everything to be perfect. The specific beads in each of these bracelets are the highest AA grade beads we could find, chosen from a variety of places worldwide. We provide 6 epic species bracelets, all channeled by EA, as well as one limited EA Awaken Bracelet! Want to take the quiz to find out what species of your cosmic family you resonate with? >
>>> Cosmic Family Bracelet Quiz by EA <<<<
The EA Channeled ANGEL Species Bracelet! This combo of rare Mother of Pearl beads and Canadian Howlite are the perfect channeled pair to be included in the Angel bracelet. Mother of Pearl is a rare bead, another first in the Lily Rose collection, matched with the marbled duality of the gorgeous Howlite.
Mother of Pearl carries the incredible healing power of the ocean. Bringing a sense of calm and deep peace. It is known to stimulate the mind, increase intuition, psychic abilities and imagination. Embodying the Angel species, Mother of pearl brings forth a motherly protection by transmuting negative energies into energies of abundance and prosperity. This energy calms any fear or anxiety, while opening a person up to express their love freely. Another very angelic stone, Howlite, enhances relief from pain in the physical, spiritual and emotional body. Howlite brings peace and overall happiness by transmuting the negative energies that other people might try to project. Angel Hybrids tend to be taken advantage of because of their good-hearted pure nature. Howlite is a crystal that will block these effects by being a powerful attunement stone connecting to the higher spiritual realm. Be prepared for higher wisdom and connection with your ancestors who want to provide you with infinite beneficial wisdom. 
Typical Dimension: 7th or 11th
Description:
Angels are either incredibly innocent, naive and loving, or they are badass warriors, but still always very loving. There are two sides to the angels which creates a very diverse species. However, the purity in their soul is undeniable and easy to connect with. They are here to help heal humanity and move us forward. 
Angel  Human Hybrids typically have these characteristics:
-Incredibly loving & compassionate to everyone
-Tend to have lower blood pressure, lower body temperature
-Highly sensitive, intuitive and empathic
-Creative, active imaginations
-Tend to get taken advantage of
-Highly skilled healers 
-Try to please everyone
-They can be very emotional 
What the bracelet will help you with: 
-Connection to cosmic family
-Unlock your Angelic DNA
-Deep inner soul healing 
-Self Love & Self Compassion 
-Connecting to higher etheric realms 
Mother of Pearl Healing Uses: Increases Peacefulness, Stress and Anxiety Relief, Higher Self Esteem, Brings Inner Beauty & Dignity, Provides Soothing Energy, Brings out Purity, Increases Honesty and Integrity


Howlite Healing Properties: Focusing the Mind, Stress and Anxiety Relief, Letting Go of Old Emotional Pain, Brings Peace and Happiness, Calms Anger and Aggression, Aids in Communication, Boosts Self-Expression, Pain Relief
A note about sizing: This is a 8mm bead bracelet. We offer three built in sizes to choose from. The most widely used bracelet is 7.5" Standard Size and we offer 6.5" Extra Small as well as 8.5" Extra Large. We can also do a completely custom size! Simply measure your wrist, as tight or loose as you want it and send us an email or message with your exact size. There is no price difference for custom sizes!
Each bracelet's bead count will vary slightly with the wrist size changes. For example, we will remove or add certain beads to keep it in a natural flow. The photos shown in this listing are the standard size 7.5" bracelets.  
This stretch bracelet is an original design, channeled by Elizabeth April and handcrafted by us using 100% genuine high quality semi-precious gemstones in our Florida Studio. 

Gemstones may vary. Necklace style and chain length are customizable for perfect layering. Click here for more information.
Customer Reviews
12/04/2020
Shanleigh W.
United States
Super Powerful and So Special!
I have seriously never owned such a powerful piece of jewelry! This bracelet makes me feel calm, protected, and connected. It's crazy how it shifts my frequency every time I wear it or even just look at it. And I love that there's a smaller size option because I have tiny wrists and bracelets don't usually fit me. Thanks EA and Lily Rose!!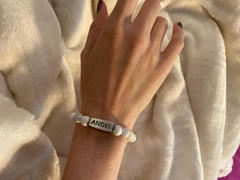 12/04/2020
Elisabeth R.
Sweden
12/03/2020
Robin H.
United States
Incredibly healing!! <3 Much LOVE & gratitude to EA & all at Lily Rose!! <3
12/01/2020
Dawn G.
United States
Beautiful!
LOVE, LOVE, LOVE my Angel bracelet!! The craftsmanship is wonderful. You can tell they will not break easily. The crystals are the best part. The energy from them is outstanding and I wear mine everyday!
CW
11/27/2020
Colleen W.
United States
Beautiful!!!
Huge fan of EA! I love this bracelet and I can feel the angel energy of light and love when ever I put it on. It keeps me calm throughout the day. Beautifully made by LR!!!!
11/27/2020
Sara D.
United States
Angel bracelet
So pretty and shipped in a timely manner. I get compliments all the time since I've started wearing this on a daily basis. Love it!
choosing a selection results in a full page refresh