The Limited Edition Elizabeth April Channeled Bracelets are here! These beautiful bracelets were created to help you expand and shift to your highest vibration. This project was in the works for OVER A YEAR! We wanted everything to be perfect. The specific beads in each of these bracelets are the highest AA grade beads we could find, chosen from a variety of places worldwide. This is the limited edition special AWAKEN bracelet and we also provide 6 epic species bracelets, all channeled by EA. Want to take the quiz to find out what species of your cosmic family you resonate with? >>>> Cosmic Family Bracelet Quiz by EA <<<<
Introducing the ultimate channeled awakening tool: The EA Awaken Bracelet! This combo of Siberian Amethyst, Brazilian Black Onyx, Brazilian Moonstone and Canadian New Moon Labradorite is attuned to help you awaken faster than ever before. Elizabeth April personally channeled this combo, everything down to the placement of the beads for proper energy alignment.
This epic bracelet features a dual sided shiny bead that states "AWAKEN Elizabeth April" to bring to surface the powerful lessons that reside within. On the other side is her incredible EA sacred geometry logo. Beside the beautiful totem bead you will find two Rainbow Blue Moonstone beads. Moonstone calls you to be in touch with the inner god or goddess, to learn to love openly and trust the universe as it calls you to awaken. Beside that is a special dark and high quality grade of Siberian Amethyst beads. Known as the queen of the crystals, this single stone is a powerhouse of energy that enhances the balance of the mental, physical and spiritual states. It will bring you to higher levels of consciousness while providing third eye benefits, deeper intuition and psychic abilities through increased meditational states. Next is Brazilian Black Onyx, which was one of Elizabeth's first malas she fell in love with. It's no wonder because it's known as the "Warrior Stone" which keeps you masterfully protected while tearing down the barriers of the subconscious. It is the perfect companion for past life regressions, plant medicine therapy, profound physic journeys and healing blockages due to trauma. Finally on the very back of this powerful piece is Canadian New Moon Labradorite. This is called New Moon because the grade is AAA quality, representing a glow very similar to Moonstone. Each bead shimmers with blues, green, orange, purple and more. Labradorite is known as the "Shaman Stone" because it's vibration will protect and heal light workers while performing energy work or going through intense change. It activates a powerful cloak to ward off negative energies and strengthen internal energy at the same time. 
___________________
"If I could summarize my vibration in crystals it would be this!! With a combination of Labradorite, Moonstone, Amethyst and Black Onyx it will shoot you to the 5th dimension and back! I specifically channeled these crystals to allow you to awaken to your highest potential. In fact, this bracelet is so powerful I don't recommend you wear it at night. The time to expand is NOW!" - Elizabeth April
Attention: Make sure you are intentional while wearing it because it is very powerful! 
Dimension: 5th
What will this Bracelet help you with:
-Opening your Third Eye
-Astral Traveling 
-Telepathy
-Raising your Vibration
-Grounding 
-Absorbing & Protecting against negative energies 
-Bubble of Light & Protection 
Amethyst's Healing Uses: Increases Spiritual Intuition, Provides Easier Meditational States, Stress and Anxiety Relief, Balances Emotions, Increases Relaxation, Helps Promote Sleep, Balances the Nervous System
Learn more about: Amethyst crystal healing qualities!
Moonstone Healing Properties: Energetic Stabilizer, Enhances Inner Growth, Balances Emotions, Promotes Inspiration, Soothes Emotional Stress, Brings Universal Energy, Illuminates Light in Darkness, Enhances Love, Balances Hormones, Increases Inner Power
Learn more about: Moonstone crystal healing qualities!
Labradorite Healing Properties: Inner Reflection, Emotional Growth, Increased Focus, Discovering Inner Magic, Connection with the Universe, Expanding Spiritual Awareness, Protection from Negative Energies
Learn more about: Labradorite crystal healing qualities!
Black Onyx Healing Properties: Absorbing Negative Energy, Transforming into Positivity, Stamina Increase, Strength Booster, Emotional Support, Powerful Protection, Development of Healthy Emotions
Learn more about: Black Onyx crystal healing qualities!
A note about sizing: This is a 8mm bead bracelet. We offer three built in sizes to choose from. The most widely used bracelet is 7.5" Standard Size and we offer 6.5" Extra Small as well as 8.5" Extra Large. We can also do a completely custom size! Simply measure your wrist, as tight or loose as you want it and send us an email or message with your exact size. There is no price difference for custom sizes!
Each bracelet's beach count will vary slightly with the wrist size changes. For example, we will remove or add certain beads to keep it in a natural flow. The photos shown in this listing are the standard size 7.5" bracelets.  
This stretch bracelet is an original design, channeled by Elizabeth April and handcrafted by us using 100% genuine high quality semi-precious gemstones in our Florida Studio. 
Gemstones may vary. Necklace style and chain length are customizable. Want shipping/packaging info? Click here for more information.
Customer Reviews
02/06/2021
Betsy S.

United States
The Best!
Loving it! Uplifting.
02/05/2021
Georgia H.

Australia
Great Service Great Products
Amazing customer service, and the bracelet was exactly as described. I love it thank you.
02/02/2021
Jannie H.

Denmark
Awesome
I felt the energy the first couple of days, I guess my body upgraded it after that.. I LOVE my EA bracelet. I also have the Mantis.
KL
01/04/2021
Krysta L.

Canada
Super Impressed!!
I'm absolutely blown away with my order!! From the exquisite packaging, to the attention to fine details, to the quality of my pieces—y'all exceeded my expectations!! I'm so happy with everything, and actually received more than I was anticipating!! Bravo, team—and THANK YOU!! I'd re-order again in a heartbeat!! Love Love Love!! 5+ Stars, all around!! -Happy (& Grateful) Customer, Krysta Lee
12/27/2020
Tamara T.

United States
Love & Positivity
I bought a total of 5 Elizabeth April Limited Edition Stretch Bracelets (8mm). Initially, I bought the Awaken & Angel bracelets (7.5 inch) for myself. My daughter absolutely loved them, so I gave the bracelets to her & reordered. When I reordered, I bought the Awaken, Angel, & Pleiadian bracelets in size 8.5 inch (all 7.5 inch were sold out). Since the bracelets are stretch, the size difference is minimal. Everything worked out. The bracelets are beautiful & I couldn't be happier! Everything I've purchased from Lily Rose Jewelry resonates with my soul & EA's bracelets are no exception!! My daughter & I are Empaths, we feel EVERYTHING on a deeper level. Nothing but love & positivity vibrates from the bracelets. Beautiful energy!! It's important to feel the energy of everything around you. Our current society sees feelings & emotions as a weakness, but it's not. My empathic abilities are my superpowers. The energy associated with people, places, & things will always override what we see in the physical or at face value. ✨♥️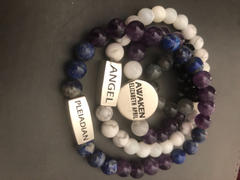 12/08/2020
Lydia F.

United States
Love this bracelet!
I wear this when I am meditating or balancing my chakras... pretty much any energy work and I can feel the protection it brings! Its a must have either on its own or to compliment any of her other bracelets xoxo
choosing a selection results in a full page refresh