Pure like water, and relaxing like the ocean. This mermaid crystal is calming like the ocean on a smooth day. It brings on deep relaxation, allowing one to liberate themselves by speaking their truth. Aquamarine clears the body of all emotional toxicity, teaching to go with the flow. It rejuvenates the mind, body, and soul from all impurities. Said to give 'eternal youth.' 
Connected to the ancient city of Atlantis, meditating with Aquamarine can help access its records and enhance insight into the past and future. This crystal can help unlock the secrets of the planet and the reality we live in. 
Aquamarine Healing Properties: Calm Relaxation, Clears Communication Issues, Promotes Hormonal Balance and Regulates Rhythms in our Body, Detoxifies, Reduces Inflammation and Pain, Aids in Access of the Akashic Record, Enhances Insight and Intuition, Transmutes Negative Energy
Learn more about: Aquamarine crystal healing qualities!
| | |
| --- | --- |
| Origin of Stone | Brazil |
| Size of Pendant | 10-30mm (Varies) |
| Metal | White Gold Vermeil |
| Necklace Size | 18" + 2" Extender |
Gemstones may vary. Necklace style and chain length are customizable. Want shipping/packaging info? Click here for more information.
Customer Reviews
01/09/2021
Tamara
United States
Sunburst ☀️
Purchase: Aquamarine Ray of Light Sunburst Minimalist Pendant 18" White Gold Necklace This is my most cherished piece of jewelry. I never take it off. My mother had a sun necklace & I have comforting memories of it from childhood. I've always wanted a sun necklace of my own, something unique & silver. My skin is very, very pale. Gold looks awful against my skin. I check out the Lily Rose website often & was immediately drawn to this necklace. It's unique, beautiful, & silver. I have an extremely deep connection to Atlantis which makes this necklace even more special to me. It's the perfect length & well crafted. The lines that define the sun rays are clean. The Aquamarine stone is of good quality. Like the other pieces I've purchased from LRJ, he necklace carries a beautiful vibe. I couldn't be more pleased with my purchase! I truly appreciate the packaging. Every order from LRJ arrives in a timely manner & each piece of jewelry is individually wrapped within a protective plastic. Many thanks!! ☀️ *The pic I attached doesn't do the necklace the justice it deserves. It's far more beautiful in person.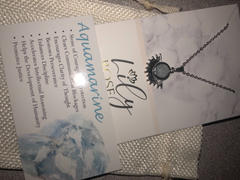 choosing a selection results in a full page refresh