NOTE: Malas are very limited due to the amount of beads (108 beads!) When we run out of stock, it may take a month or two to replenish. We are so grateful for your understanding. 
The Limited Edition Elizabeth April Channeled Malas are here! These beautiful malas were created to help you expand and shift to your highest vibration. The original project was in the works for OVER A YEAR! We wanted everything to be perfect. The specific beads in each of these bracelets are the highest AA grade beads we could find, chosen from a variety of places worldwide. We provide 6 epic species bracelets/malas & NOW 2 New Earth bracelets, all channeled by EA. Want to take the quiz to find out what species of your cosmic family you resonate with? >
>>> Cosmic Family Bracelet Quiz by EA <<<<
The EA Channeled PLEIADIAN Species Mala! This combo of Chilean Lapis Lazuli and Siberian Amethyst are the perfect channeled pair to be included in the Pleiadian mala. 
Lapis Lazuli works on aligning the third eye and throat chakra. The third eye is home to our consciousness, regarding perception and intuition. By activating this chakra a person will sense a feeling of awareness to the world. Pleidian's often feel like the black sheep of the family and need to work on intense inner work to not feel drained by others regarding the broken universal system they are in need of repairing. Lapis also aids in communication through the throat chakra, allowing one to express properly with compassion, observation and reflection. Amethyst is the queen of the crystals, working on the crown chakra to bring overall balance to the entire system. Since Pleiadians feel like their mission is to help humanity wake up, Amethyst can attribute to higher levels of consciousness through peaceful meditation and higher levels of psychic manifestation. It is one of the most popular crystals in the world for how incredible it can help transmute physical, spiritual and emotional stress. 
Typical Dimension: 8th
Description:
Pleiadians are one of the most common species on planet Earth, for a reason. They have been one of the biggest influences and seed plants here. They have an incredibly high vibrational frequency and have the ability to feel deep amounts of compassion for all life. Its quite an honor to be considered a part of this species. 
Pleiadian Human Hybrids typically have these characteristics:
-Feel like the 'black sheep' in their family
-They don't understand social hierarchy
-Highly sensitive, intuitive and empathic
-Feel like they have a mission on Earth, to help humanity wake up and contribute to the collective consciousness ascension
-Interested in humanitarian efforts
-Love to share love – sometimes too much – trying to please everyone
-They can be very emotional, often resenting how easily they can tear up
-People subconsciously enjoy their presence because they give their energy easily to others
What the mala will help you with: 
-Connecting to your cosmic family
-Unlocking Pleiadian DNA
-Deep inner healing
-Connection to your mission 
-Allowing you to express and connect to your compassion
-Raising your vibration 
-Awakening your psychic abilities 
Lapis Lazuli Healing Properties: Promotes Inner Truth, Increases Inner Power, Protects from Psychic Attacks, Releases Stress, Brings Compassion, Stimulates Creativity, Assists with Speaking Truth, Bonds Relationships, Overcomes Depression, Boosts Immune System, Soothes Inflammation, Alleviates Insomnia, Brings Deep Relaxation
Amethyst's Healing Uses: Increases Spiritual Intuition, Provides Easier Meditational States, Stress and Anxiety Relief, Balances Emotions, Increases Relaxation, Helps Promote Sleep, Balances the Nervous System
A note about sizing: This is a 8mm bead mala. There is no specific size to a mala and it has a traditional 108 beads. The malas can go around the wrist (5 times for a small wrist, or 4 times for a larger wrist.) It may take some getting used to how to wrap to your perfect specification. This is also used as a gorgeous necklace, which feels like a powerful cloaking device!
Learn more about: The History of Malas
This stretch mala is an original design, channeled by Elizabeth April and handcrafted by us using 100% genuine high quality semi-precious gemstones in our Florida Studio. 
Gemstones may vary. Necklace style and chain length are customizable. Want shipping/packaging info? Click here for more information.
Customer Reviews
Write a Review
Ask a Question
Love my Pleidian mala
Whenever I want to feel closer to my Pleidian galactic family or want them to surround me along the day, I wear my mala as a sign to invite them. Love the energy of Lapis lazuli and Amethyst together. Thank you.
08/13/2021
Shari R.

United States
Beautiful
Extremely beautiful Mala. I feel a sense of peace and calmness while wearing or just being near.
08/11/2021
Nina C.

United States
Love it
Beautiful. I wear it every day.
07/30/2021
Tor A.

Norway
Great combination of beads
Wonderful combination of colors, and I love the separators!
06/30/2021
Jen C.

United States
Best malas ever!!!!
I love my Pleiadian necklace mala!!!! I feel so luxurious wearing all the crystal beads & they keep me grounded & intentional. When my baby starts to pull on the necklace, I just wrap it around my wrist instead & it fits perfectly! I love this whole line of interdimensional jewelry options! Thank you so much EA & Lily Rose for this unique & special jewelry.
05/14/2021
Adam R.

United States
Amazing Quality, Powerful Vibrations!!
I am beyond satisfied with my EA Pleiadian Mala Necklace that I ordered from Lily Rose. It arrived about one month ago, and, the first thing I noticed was the care and beauty in every aspect of the shipment. The packaging, the branding, the extra goodies in the box, and especially the necklace itself—every detail is designed and crafted beautifully! ...You can tell it is truly a labor of love for this family-owned business. And, although I love the gorgeous design of the necklace, what I really enjoy about it is the powerful energy emanating from the crystals themselves—it really is palpable. Since receiving the mala, I have definitely felt more connected and aligned with Source energy, and my own galactic origins. My energy feels higher, and yet somehow more grounded, and I feel a measure of protection from it also. I am so attached to this mala that I literally have it with me at all times now, somewhere on my person. I can't recommend Lily Rose and their product high enough. I am very glad that I purchased from them, and I will do so again!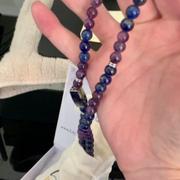 choosing a selection results in a full page refresh