Moonstone works on the higher chakras of the body, known as the heavenly chakras. Opening the  heart, connecting to the third eye, and the projecting with your crown. It helps you to calm and release your stresses and opens you to all forms of love. The heart is the source of our divinity. The Peach Moonstone opens up our heart making us more receptive to love, feelings, and our universal connectivity. 

This is a perfect stone if you are in a phase of instability. Just as the moon pushes and pulls the tides of our ocean and has many phases, this stone will push out negative emotions, and pull forth positive ones showing you that you can shine in all phases of your life. We can call upon our moonstone to get in touch with the inner goddess, to learn how to love openly, to flow in trust with the universal energy, to illuminate the light in the darkness, and to trust in the miracles of life and infinite possibilities. 
Peach Moonstone Healing Properties: Ignites Passion & Love, Soothes Emotions & Anger, Relieves Depression & Anxiety, Increases Loving Desire, Increases Self-Love, Increases Intuition & Insight, Helps with Big Life Changes
Learn more about: Moonstone & Peach Moonstone crystal healing qualities!
| | |
| --- | --- |
| Origin of Stone | Brazil |
| Bead Size | 8mm |
| Bead Finish | Polished Round |
| Necklace Length | 44" with 1.5" Pendant |
This Mala is an original design, handcrafted by our artisans using genuine high quality semi-precious gemstones. Our stones are 100% genuine and of the finest quality. Malas can be worn as a necklace, wrapped multiple times around the wrist as a healing bracelet, or held during meditation or yoga.
Gemstones may vary. Necklace style and chain length are customizable. Want shipping/packaging info? Click here for more information.
Customer Reviews
Write a Review
Ask a Question
11/09/2021
Samantha C.

United States
Peaches and Cream Dream!
This mala reminds me of dreamsicles, it's so lovely. Fills my heart with Love! Really! Every time I wear it, I feel True Love in my heart, it's exhilarating, reassuring, and just the right amount of Sunny Joy shines through when it's in the sunlight! It literally glitters, it's so beautiful. Bits of grey are sporadically thrown around in some of the stones, and that makes it all the more beautiful in it's uniqueness. Also, the kind people at LRJ let me order the Rainbow Moonstone Necklace, and get the Peach Moonstone instead (twas before they had it listed on their website). They are so kind and deserve ALL the best the world has to offer! Thank you so much for everything, LRJ <3
04/27/2021
Juliane H.

Switzerland
So energetic!
I love this necklace, when I put it on the first time I was almost overwhelmed by the energy of this necklace. It has such a power that I am wearing it every day and I love and enjoy this wonderful energy. And I really love to watch this beauty if it is wrapped around my whrist. Such an amazing piece of jewellery. Thank you so much!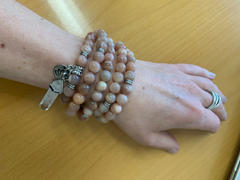 choosing a selection results in a full page refresh