Foster the power of protection, intuition and love with this spiritual triple power Mala. 
This mala was made with the spiritual warrior in mind who is taking on the task of healing themselves to make this world a more beautiful place. Amethyst is known as the queen of the crystals and will set your mind awakened with enhanced spiritual intuition. Rose Quartz will set your soul at ease with providing self-love, softness and forgiveness. All while Labradorite ties these crystals together as the master protection and shaman stone. Labradorite is powerful, yet keeps you able to transmute by putting up an energetic shield around your aura.
Our gemstones are hand-selected from different locations to produce the most beautiful and powerful specimens. Amethyst is selected from Africa, Labradorite from Canada and Rose Quartz from Madagascar.
Extra Energy Boost: This Mala is adorned with a double terminated hexagonal Amethyst point pendant and a Lily Rose brand white gold vermeil lotus charm. The Amethyst point pendant adds an extra vibrational boost, amplifying the healing properties of the gemstone. Note: Our Limited Edition Malas are only around for a short time.
--
Amethyst's Healing Uses: Increases Spiritual Intuition, Provides Easier Meditational States, Stress and Anxiety Relief, Balances Emotions, Increases Relaxation, Helps Promote Sleep, Balances the Nervous System
Labradorite Healing Properties: Inner Reflection, Emotional Growth, Increased Focus, Discovering Inner Magic, Connection with the Universe, Expanding Spiritual Awareness, Protection from Negative Energies
Rose Quartz Healing Properties: Fosters Love, Increases Forgiveness, Clears Anger and Jealousy, Eases Tension in the Heart, Aids in Empathy and Self Love 
| | |
| --- | --- |
| Origin of Stone | Africa, Brazil, Canada |
| Bead Size | 8mm |
| Bead Finish | Polished Round |
| Necklace Length | 44" with 1.5" Pendant |
This Mala is an original design, handcrafted by our artisans using genuine high quality semi-precious gemstones. Our stones are 100% genuine and of the finest quality. Malas can be worn as a necklace, wrapped multiple times around the wrist as a healing bracelet, or held during meditation or yoga.
Gemstones may vary. Necklace style and chain length are customizable. Want shipping/packaging info? Click here for more information.
Customer Reviews
Write a Review
Ask a Question
Such beautiful beads
I enjoy wearing it every single time. It brings me sense of calm. I bought multiple malas and bracelets. I cherish each one of them. They arrived beautifully packaged. Can not express enough gratitude for the customer service and the love that goes into making such beautiful high energy pieces.
05/05/2022
Maria D.

United States
Tripple power!!!
LilyRose rose quartz piece's are soooooo soft & sooooo loving!!! I just love them all!!
08/16/2020
Kristin W.

United States
Triple Power Perfection
Necklace is gorgeous with so many colors with perfect attention to detail. Arrived quickly, packaged with wonderful box and bag. I will be buying more!
07/29/2020
Chelsey H.

United States
Amazing quality!
I got this beautiful packaged with the most adorable gift box and bag. Definitely one of the best quality and at very reasonable price.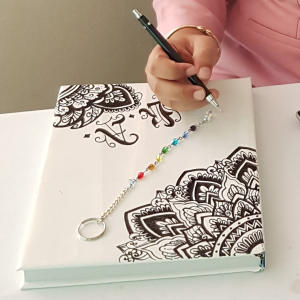 KA
06/19/2020
Kerece A.

United States
Divinely Unique Crystal Mala
I spent days literally trolling LilyRose online shop to find the perfect mala for the energy changes I'm presently going through. When I came across the crystal quiz I was elated and messaged them same time on FB. Their responses were timely and I loved their personal guidance and intuition. Such efficiency I was just so amazed and excited. When I finally received my package it was everything and so much more. I feel so balanced now, thanks a million LILYROSE.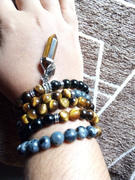 06/04/2020
Larissa S.

United States
Glorious Crystal Mala
I am sooo in LOVE with my new mala! Rose quartz + amethyst + Labradorite stones are some of my absolute favorites and as soon as I adorned myself with this lovely talisman I could feel sol much love, peace & tranquility surround me! I've been wearing it daily since it arrived and I feel so grateful, thank you!!! And thank you to Elizabeth April for introducing me to your beloved small biz!
choosing a selection results in a full page refresh