We haven't made a new Triple Power in over a year. This was definitely the time to debut our Limited Triple Power Grounding & Stress Reliever Mala. 💕

"It is hard to not be triggered lately with everything going on and to find peace in what direction to go. I sat down with all the collective energy and created this as a shield and a guide for your utmost intuition to follow your path without the chains of worry and dread. More than ever we need to stand up for what's right, believe in ourselves, overtake our fear response and bring light to all aspects of this reality.
Love you all so very much." - Sarah & Joe ❤️🙏🏻🙏🏼🙏🏿🙏🏾🙏🏽❤️
Known as the "warrior stone," Black Onyx is a vital piece of power for the spiritual warrior and freedom fighter. Black Onyx is so powerful that it is a great companion when you are facing any emotional turmoil or going through intense changes. This stone is used for conquering fears and promoting your true destiny. Perfect companion stone for past life regressions, plant medicine therapy, profound physic journeys and healing blocked trauma. Black Onyx is the epitome of duality, taking you deep into the darkness so that you can shine your light brighter than ever before. 
We added Hematite which allows you to embark on those great spiritual journeys while being grounded and psychically protected. It is a powerful manifesting stone, promoting vitality and empowerment. Labradorite is known as the "Shaman Stone" as it is the utmost in powerful protection as well. It protects and heals light workers while increasing emotional growth and expansion of spiritual awareness. This is the gorgeous darker Larvakite Labradorite in this mala. 
Extra Energy Boost: This Mala is adorned with a double terminated hexagonal black onyx point pendant and a Lily Rose brand white gold vermeil lotus charm. The black onyx point pendant adds an extra vibrational boost, amplifying the healing properties of the gemstone.
Black Onyx Healing Properties: Absorbing Negative Energy, Transforming into Positivity, Stamina Increase, Strength Booster, Emotional Support, Powerful Protection, Development of Healthy Emotions
Hematite Healing Uses: Absorbs Negative Energies, Protects and Grounds Physical, Mental and Spiritual Planes, Releases Self-Imposed Limits, Enhances Self-Exploration, Powerful Manifesting Stone
Labradorite Healing Properties: Inner Reflection, Emotional Growth, Increased Focus, Discovering Inner Magic, Connection with the Universe, Expanding Spiritual Awareness, Protection from Negative Energies
Learn more about: Labradorite crystal healing qualities!
Learn more about: Black Onyx crystal healing qualities!
Learn more about: Hematite crystal healing qualities!

| | |
| --- | --- |
| Origin of Stone | Brazil, Canada |
| Bead Size | 8mm |
| Bead Finish | Polished Round |
| Necklace Length | 44" with 1.5" Pendant |
This Mala is an original design, handcrafted by our artisans using genuine high quality semi-precious gemstones. Our stones are 100% genuine and of the finest quality. Malas can be worn as a necklace, wrapped multiple times around the wrist as a healing bracelet, or held during meditation or yoga.
Gemstones may vary. Necklace style and chain length are customizable. Want shipping/packaging info? Click here for more information.
Customer Reviews
Write a Review
Ask a Question
Grounded
What am amazing grounder and stress reliever. And of course she's beautiful!
05/05/2022
Maria D.

United States
So sooo powerful
Once again, I purchased this mala not knowing who ut be for and once I opened the box... I knew what loved one it would be for. Such beautiful yet strong energy. This one will have you just wanting to look at the shine of the Labradorite while feeling SUPER STRONG, PROTECTED & CROWNED!!!
12/24/2021
Thanh L.

Australia
Mala
Purchased.for my husband to work through his traumas and have protection. Great quality beads.
10/27/2021
Betsy S.

United States
OMG. I ABSOLUTELY LOVE THIS MALA.
Easy ordering. Came at time announced. The mala's deep dark richness wraps me in its protective aura. I feel honored and blessed and comforted with these precious beads in my life and on my body. I have found new friends of deep earthly origin. I am profoundly grateful. Blessings.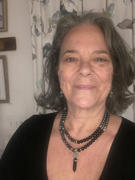 06/15/2021
Kristen O.

United States
I wear this every day!
I absolutely love love love this! I'm very sensitive to others energy and EMF's and specifically purchased this for my own energetic protection. I love how I feel so grounded and protected when I wear this mala. When you open the box and put this on, you can feel that this isn't just a string of pretty stones. I can really feel the high vibration and the love that went into creating this mala. So happy to have this to wear every day!
12/13/2020
Jimena R.

Mexico
Treasure
I was really excited for all the stuff you have on the site and all the information I wanted everythin! Once it arrived to Mexico I was mesmerized! The quality is perfect, the designs, in general the material and presentation I loved it!
choosing a selection results in a full page refresh