Rhodonite Gemstone Uses & Crystal Healing Properties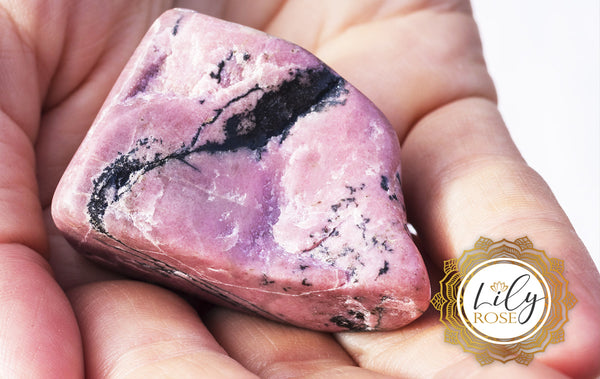 "Love life and it will love you back."
Keywords – Love, Trust, Compassion, Emotional Healing, Forgiveness, Bonding, Relieves Stress, Anger and Fear
Chakra: Heart and Root
Rhodonite is in our True Love collection because it is a stone of the truest love. It facilitates compassion and clears emotional blockages that are hurting your current relationships, self-esteem and overall life. Use this crystal to help remember where you want to be in life without the negative, spiraling thoughts that can hinder self-image. Rhodonite aids in calming the feelings of anxiousness or incoming panic attacks.
If you want to discover your true passion and need the wisdom to direct your energies onto that path, Rhodonite can help encourage synchronicities to bring about this goal. It can help you see your inner light and be of service to others, which brings about positive karmic change in your life. Rhodonite can even increase powers of people with intentions of greatness.
Physically, Rhodonite is believed to help heal the organs, especially the liver. It aids in detoxification of the blood and relieves ailments in the heart, nervous system and lungs. Hold it close and it can help reduce swelling and clear out inflammation.
Rhodonite is a heart and root chakra balancer which helps heal past anxieties and allows you to discover innate abilities. The name of the stone actually means "a rose" in Greek, which relates to its earthy pale, yet vibrant display of pink hues. The colors range from pale pink to a deep rose, wine color making it one of our favorite mala bracelets or necklaces, as each bead carries its own unique hue.
Rhodonite was discovered in Argentina in the 1930s and became a beloved stone for its distinct color variations.
Affirmation: I will awaken my inner love through light and allow my tenderness to shine.