Lapis Gemstone Uses & Crystal Healing Properties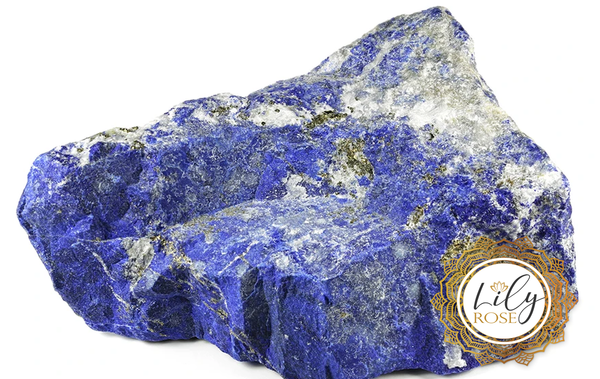 Lapis Lazuli
Increases inner power

Protects from Psychic attacks

Overcomes depression

Attracts abundance

Promotes Truth

Release Stress 
Ancient civilizations of Egypt, Rome, and Persia revered this stone as mystical, and used it in many modalities. Lapis helps open up the third eye to inner wisdom while enhancing overall intuition, relieving stress, and expelling depression. It aids in bringing inner peace by protecting against psychic and physical attacks. The inner calm and wisdom of Lapis will bring confidence to speak the truth from a place of understanding. As a bonus, the shiny pyrite inclusions on lapis are attractors of wealth and abundance. This is great for professions that require deep critical thinking, speaking out on what is right, and attracting wealth and prosperity. Recommended for executives, lawyers, activists, and psychologists. 
Astrology
Taurus: April 20 – May 20
Virgo: August 23 – September 22
Libra: September 23 - October 23
Sagittarius: November 22 – December 21
Element: Water
Planet: Neptune and Venus
Affirmation 
To activate this crystal, affirm: I see clearly, and understand all that I see. 
Chakra
Third Eye - Throat 
Lapis Lazuli works on aligning the higher mind chakra known as the Third eye. This is our chakra of perception and intuition, home to our consciousness. By activating this chakra a person will sense a feeling of awareness to the world. This chakra stimulates the desire to further understand the world, how its systems work, and aids in the process of gathering and dissecting knowledge. When in balance, this chakra allows us to control the flow of energy within our bodies, while keeping us observant and reflective. 
The throat chakra is amongst the most important because it aids in the release of energy from other chakras in the body to be expressed through the throat by speaking one's truth. When blocked, it will affect not only the throat area, but any other area where energy is being held back and not spoken. When in balance, there is no energy stagnation so the mind, body, and spirit are all in harmony resulting in a feeling of serenity, and flow. 
Origin 
USA, Chile, Italy, Afghanistan.
Uses 
Wear Lapis Lazuli to magnify the energies of wisdom, integrity, truth, love, and emotional healing. By activating the third eye, Lapis will boost mental organization, intellect, memory recall, and reduce brain fog. Making it a great conduit for anyone working to get things done. This stone of power is very useful in situations of idea generation, and problem solving because it helps in the retention of knowledge and the ability to view a situation from multiple angles. 
As the stone of truth, it is a great stone to help one in opening lines of communication in any situation. Helpful to aid in honesty, and openness making it great for a person in honest sales, for writers, speakers, or simply a person asking someone on a date. Creating a grid of lapis in a space can help in situations where there is constant miscommunication. Due to its truth, it is great to aid in cultivating a healthy relationship based on open communication. 
Lapis is great at calming the mind, relieving stress, and protecting the empathetic mind by separating emotions that belong from the ones that don't. Place it next to the bath while sitting in it and enjoy a calm serene quiet time. Allowing the energy of Lapis to quiet the ego, and access the higher self. You can also place it under the pillow for a deeper sleep. 
In meditations, use Lapis as a manifestation stone. Going into meditation with Lapis will bring clarity of mind and direction, with an open communication to the self. You will come out of meditation knowing exactly what needs to be done, then it is on you to put the thoughts to action. You can wear it or place it in your hand or on your third eye. Set your intention as you go into the meditation and visualize your manifestation. For best results repeat at least once a day for a minimum of two months or until your vision manifests.  
Physical 
Lapis Lazuli enhances overall circulation in the body, and improves the cardiac rhythm. By improving circulation Lapis boosts the immune system, purifies blood, lowers blood pressure and aids in inflammation. Reduced inflammation in the body aids in relieving headaches, migraines, vertigo, body pains, and PMS. By unblocking the throat chakra it works on the respiratory and nervous systems. All which help with dis-ease in the throat, larynx, vocal chords, and thyroid. Relieving energy from the mind, it can help with hearing loss, ear and nasal passages, insomnia, and depression. 
You can heat up a lapis in water and place it on the eyes to relieve eye infections, or relieve septic sites. You can then use the water as an eye bath. Heating up a lapis in sunlight then placing it on areas of swelling can help reduce bruising, and relieve insect bites. 
Metaphysical 
Sightings of Lapis have been seen across many civilizations for thousands of years. Known as a stone of visions, it brings knowledge to the mind in the form of images through visualization. Meditation with lapis will activate the third eye connecting us to receive knowledge from past lives directly from ancient civilizations like the lost world of Atlantis, Egypt, Sumeria, and more. 
The sarcophagus of King Tutankhamen was covered with Lapis as well as many other Kings and Queens. It is believed that Lapis can connect through frequencies and gather knowledge straight from the fallen kings and queens that passed information through those crystals as they departed from their bodies into the etheric realms. 
The gold flakes on Lapis represent the stars in the night by no accident. This crystal is phenomenal for enhancing dreamy states to delve deep in dream works. It can guide you to spiritual enlightenment through dream revelations, astral travel, and lucid dreaming. Beyond receiving such magnificent insights, you will also sleep deep and be well rested. 
Carrying properties of pyrite, it can also protect you on a business venture by blocking off energies of people that do not wish you to succeed. Propelling you to success, and abundance.