Carnelian Gemstone Uses & Crystal Healing Properties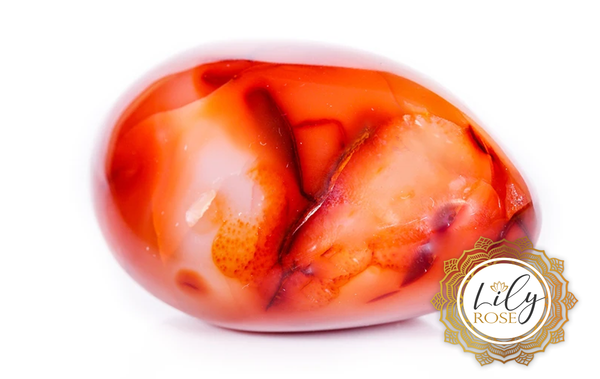 Carnelian
Spiritual Healing

Protects from Anger

Strengthens Self Love

Reduces Inflammation 

Stimulates Passion
Carnelian promotes inner peace, and calmness while vitalizing courage, strength, and assertiveness. The frequency of the stone helps to bring the mind and body into a state of calm aiding a person in setting and achieving goals, completing monotonous tasks, and the pursuit to right all wrongs. It helps to extricate any anger, or weakness. Fills the aura with a fiery confidence stimulating higher energy levels, enthusiasm, increased physical strength and endurance. All which foster a sense of self love and security.
Astrology
Taurus: April 20 – May 20
Cancer: June 21 – July 22
Leo: July 23 – August 22
Virgo: August 23 – September 22
Element: Fire
Planet: Mars
Affirmation 
To activate this crystal, affirm: I release all toxic emotions, making space to love myself, and flow in creativity.
Chakra
Sacral - Root
Carnelian works on the Sacral chakra stimulating energy to flow through the body unlocking the place of sensuality, creativity, and passion. This area boosts the gut brain connection to let energy and information flow freely. Science now shows that the gut has more neurotransmitters than the brain does, making it essential to maximizing thoughts. When in balance, the Sacral will bring attention to the simple joys in life. Carnelian will keep you motivated, and driven, while flowing in creativity.
Rekindling the Root chakra, this grounding energy brings a feeling of security, positivity, and divine earthly love. It brings balance to the root stimulating energy flow, and creativity. Its calming energy helps remain calm, and aid anyone on their journey to keep moving forward against all odds. 
Origin  
Indonesia, Brazil, India, Russia (Siberia), and Germany.
Uses
Carnelian will bring forth inner fairness, and promote the need to want equality for all. It helps you find your life path by diving deep within yourself to be able to capitalize on your strengths, and weaknesses then take positive action to maximizing your fullest potential. It brings a fresh perspective when problem solving. Its frequency will help you overcome any insecurities while keeping a positive outlook that can help you resolve any crisis. Carnelian protects against negative intentions set by others. Wear Carnelian around family members or co-workers that always have a difference in opinion so it can harmonize the two and assist in finding a common understanding of the subjects.
Use Carnelian to stimulate passion for a project that feels like it's becoming stagnant. It will help to refocus your mind, bringing forth new energies and ideas. As a stone of passion, you can use it to overcome jealousy, increase sexual compatibility, and enhance tantric sex. Physically it can increase libido to promote a healthier sex life. Carnelian can foster empowerment to aid in overcoming issues of domestic violence, and emotional domination. It will work to help release feelings of shame and guilt around violent sexual experiences. It can also be used to prevent bullying and build confidence. 
In meditation, Carnelian helps bring clarity to bad habits and inspires you to release them and not fall into old patterns that are holding you back. It also helps in revealing issues so that you may be aware of them and put a stop to them before they manifest into something larger. 
Physical 
Carnelian stimulates the circulatory system aiding in the detoxification of the blood, and unclogging the liver, and bile ducts. The stone of passion, aids in the enhanced circulation of fluids in the body so it increases libido and chances for fertility. It promotes a healthy and easy pregnancy, while strengthening fetal growth. By balancing mind chemistry it can help relieve anxiety, depression, and mental disorders. It is effective in stimulating the reproductive organs to increase fertility, release toxins from the body, reduce pain, speed bone recovery, and align the spinal column. 
Metaphysical 
Ancient Egyptians used Carnelian to honor the goddess of the divine feminine Isis. It was believed that the red represented the fertilizing blood of Mother Isis. This stone is believed to protect on the journey of love. It can be used to enhance love spells, bringing in a deeper love, and enhancing overall passion.